CellFood™ Reduces Free Radicals In Two Ways and Simultaneously Supplies Oxygen and Water
CellFood™ reduces free radicals in two ways. The first action of CellFood™ is to split water into nascent oxygen and nascent hydrogen. Nascent means newly born in atomic form; meaning that biochemically speaking, a newly born singlet, negatively charged atom (0-) of oxygen is liberated and the two negatively charged atoms (H-) of hydrogen are also liberated.
Oxygen Free radicals (which many biochemists believe are the primary cause of the aging process and degenerative disease) are positively charged singlet atoms of oxygen (0+).
The nascent oxygen atom (0-) is attracted to the (0+), forming a molecule of pure oxygen (02) at the cellular level where it is needed, for processes such as cleansing cells, e.g. combining with a single carbon atom to form carbon dioxide (C02), which is expelled through the respiratory system.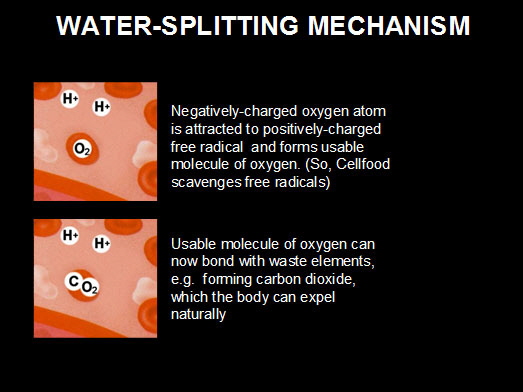 Finally, any left over nascent hydrogen atoms (H-) combine with O+ to create water (H2O).
CellFood™ Provides Additional Assimilable Nutrients
The nutrients in CellFood™ are of colloidal form and very small. The particles are 4 - 7 nanometers in diameter and because of the Brownian Movement Phenomenon, they take on a negative charge, and remain suspended in liquid. Because most bodily fluids (like blood and lymph) are colloidal and negatively charged, the body perceives CellFood™ as normal healthy body fluid, and allows the nutrients in CellFood™ to pass immediately through the sensitive membranes of the mouth, throat and esophagus, directly into the blood stream.
The minute size of particles, negative charge and acceptance of the body to CellFood™ enables over 95% of the nutrients in CellFood™ to be rapidly absorbed and usable at cellular level. This is very high, compared to the low absorption rates of tablets at 5% to 25% and gel caps at 30%. Furthermore, because CellFood™ is colloidal, the similarity between it and bodily fluids increases the bioavailability of nutrients in CellFood™ to every cell in the body. This increased availability of nutrients, and enhanced nutritional biochemical activity, enables the body to function more normally.
CELLFOOD is made from the finest natural substances that are cryogenically extracted (extreme cold), not chemically extracted, and are totally nontoxic. CELLFOOD has been thoroughly tested and is not toxic at any level - even when tested in doses of up to 50,000 times normal dosing. Cell Food does NOT contain any substance that is on the "list of banned substances" regarding International, Professional, and Amateur Athletic Associations or competitions. Product research and testing information has been completed and compiled at our manufacturer's research facility as well as several independent testing laboratories and clinics.
CELLFOOD also enhances nutrient absorption and increases metabolism. Therefore nutrients introduced into the body within the same 24 hour period will be absorbed more efficiently or in other words it promotes greater availability of vitamins, minerals, herbs, and other nutrients. All of these functions are essential for general well-being, longevity, and for the prevention of diseases.
More About Cell Food
and Water Splitting
CellFood naturally provides nascent (newborn) oxygen and hydrogen which combine with free radicals to reduce free radical load in the cells, and also allow energy production to proceed at the highest possible rate, with additional oxygen and hydrogen molecules going into
Cell Food's major health benefits are due to the releasing of hydrogen and oxygen into the cells. Scientists recognize that most diseases and infections are caused by oxygen deprivation at the cellular level and rampant oxidation of cells due to lack of reducants (anti-antioxidants).
Water "splitting" is achieved by means of shifting and weakening the bonding electrons (ionic transfers) of the water molecule towards oxygen and away from hydrogen. CELLFOOD allows the bonds in the electron distribution to be unsymmetrical (polar), allowing the splitting action of hydrogen and oxygen to occur.
Cellfood is colloidal and negatively charged - just like the blood and lymph fluid - so there is a natural synchronization between these fluids. Cellfood is a di-pole, di-base delivery system, delivering its nutrients to the body. (Di-pole means Cellfood is effective in any polarity - Di-base means it's effective within any pH range and seems to normalize acid/alkaline balance).
Elements in Cellfood
Of the 78 minerals in Cellfood, 34 are from fossilized plants taken from virgin earth and 44 from the clean Southern Oceans surrounding New Zealand, unrefined and still containing their natural resources.